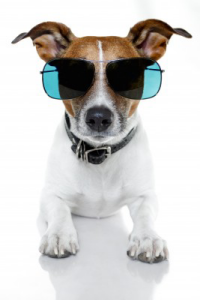 We've had some hot weather lately, and the forecast is for more of the same, so it's more important than ever to make sure we protect our dogs properly from the heat and strong sun.
Dogs usually expel heat by panting. However, if the environment is too hot and/or humid, panting can become ineffective and the dog's body temperature can rise.
To make things worse, the increased muscular effort of panting can push the body temperature even higher.
It's important, therefore, that dog owners know how to avoid putting their dogs at risk during hot and humid weather; how to recognise the signs of heat stroke, and what to do if they suspect that their dog has heat stroke.
How to keep your dog safe and healthy this summer
Avoid walking your dog during the hottest parts of the day (usually 12 noon to around 4pm).
NEVER leave your dog in a car for ANY length of time.
Make sure your dog always has somewhere cool to rest and stay out of the sun.
Make sure there's always plenty of fresh drinking water available.
If you suspect heat stroke, contact your vet immediately.
How to recognise heat stroke in dogs
The following symptoms can indicate heat stroke in dogs:
Excessive panting
Anxious behaviour
Very red gums (turning blue in extreme cases)
Salivating
Very rapid heart rate
In cases of severe heat-stroke – collapse, convulsions, shock
What to do if your dog is suffering with heat-stroke
If you suspect that your dog is suffering from heat stroke, you MUST contact your vet immediately. Sometimes it can be difficult to know how serious the situation is, and urgent treatment may be needed.
Remove your dog from the hot environment, and reduce the body temperature by gradual cooling. This can be done by immersing your dog in tepid water, or using a tepid shower or spray. Then douse your dog in cool water, paying particular attention to the groin areas. Do not use ice-cold water. Use a fan on a gentle setting to move the air around your dog to aid water evaporation and cooling.
Allow the dog to drink as much water as he/she wants in small quantities at a time (if possible add a pinch of salt to the water).
Continue to douse the dog in cold water until his/her breathing starts to settle.
Take your dog to the vet as soon as it is safe to do so.